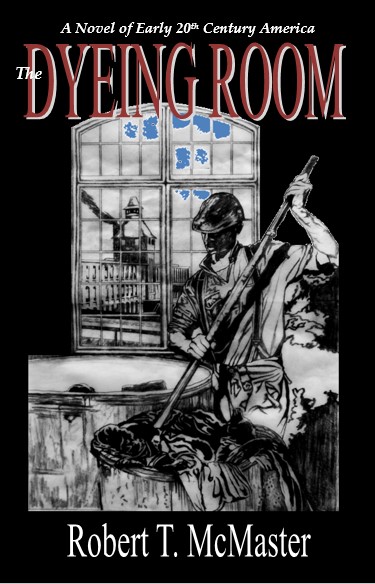 "
The Dyeing Room
by Robert T. McMaster is an engaging story contrasting the lives of two families, one headed by a wealthy textile mill owner, the other by a mill operative, and their interactions. The setting is Holyoke, Massachusetts, shortly before World War I, a time of few safety regulations and a paucity of labor laws, powerful factory owners, and changing opportunities for women. Strengths of the book are the contexts in which life events take place, episodes of sadness, tragedy, mystery, romance and happiness with imaginative analogies. McMaster's sensitive descriptions of his characters, the parents, children, friends and rivals, tell a lot about commonality specific to that era and what is timeless. Well-chosen period illustrations are a nice visual addition."
- Laura Krawitt, Director, Héritage Winooski
Mill Museum, Winooski, Vermont

"
The Dyeing Room
reconstructs day-to-day life in Holyoke on the eve of World War I. Labor unrest is simmering in the city and the movement for women's rights is gathering momentum. McMaster's compelling and carefully-researched story centers on two young men: one from a family of French-Canadian immigrant workers and the other the son of a textile mill owner."
- Eileen Crosby, Archivist, Holyoke Public Library,
Holyoke, Massachusetts

"The decade of the 1910s offers riches to historians and novelists. Brutal war raged in Europe. Communism toppled a czar in Russia and capitalism and labor came close to war in this country. Women campaigned for suffrage. Immigrants flowed to our shores, bringing both turmoil and richness to American cities. Robert McMaster of Williamsburg mines this lode of social and cultural change in his engaging new novel
The Dyeing Room
...a microcosm of American society of the era. The reader meets capitalists, labor agitators, feminists and members of the temperance movement. As a result, the characters find themselves in a number of exciting yet historically accurate situations. Young-adult readers should find Jack, Tom and their friends fascinating. Like teenagers today, they must establish life paths and allegiances in a rapidly changing world.
The Dyeing Room
brings history to life in a very personal way."
- Tinky Weisblat, The Recorder,
Greenfield, Massachusetts

"McMaster's new historical novel,
The Dyeing Room,
continues the saga of two friends, Tom Wellington and Jack Bernard. This sequel to
Trolley Days
describes the exploits of ethnic communities and the haves and have-nots living in the early 1900s in industrial Holyoke, Massachusetts. McMaster weaves an exciting story of union/non-union worker conflicts and family loyalties as well as the loves and agonies of young people caught up in reactions to changing social structures, women's roles and relaxed constraints. This good read comes to us as a plausible record of what happened 100 years ago as freshly as if it happened yesterday."
- Win Lavallee, author of
Dancing in the Dark,
Tempest in the Wilderness,
and
Reluctant Warrior


See more reviews, ratings, and information about The Dyeing Room:


---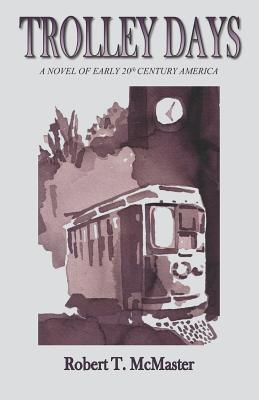 "
Trolley Days
, Robert McMaster's first book, is a special gem of historical fiction. Young adults as well as older nostalgia buffs will enjoy this straight-forward read of life and times in an early 1900s New England industrial town. Two likeable but different young men learn how faith, family and friendship shape their lives and those around them. McMaster is a writer to watch."
- Winston Lavallee, author of Dancing in the Dark and Tempest in the Wilderness

"What a wonderful read!
Trolley Days
brought back memories of places, faces, small-town New England living, family relationships, first kisses, dancing, high school, and that special bond between childhood best friends - guys in training on the way to manhood. What a treat! What wonderful characters - whom I now know and love and wouldn't mind spending more time with, perhaps in a sequel (or two ?). There's plenty of heart in the book, along with plenty of insightful history and a "mystery" ...It's a joyful, engaging read from beginning to end...a masterful first novel. I hope it's not only not the last, but the beginning of a beautiful friendship with readers here, there, and everywhere."
- Mark Ashton, Southbridge Evening News

"
If you love period pieces then this is the book for you...A great book depicting two families of different backgrounds at the turn of the century. One family is poor and the other owner of one of the mills in Holyoke. Two boys become friends in school and their friendship is tried many years later when one of them is in trouble.
- Mary Haggerty, Goodreads.com

"
Trolley Days
is a wonderful book that will engage even reluctant young readers. My students loved the characters and were enthralled by the story.
Trolley Days
abounds with lessons on history, historical fiction, and growing up."
- Louise Millane-George, English Department,
Holyoke Community College

"I also really enjoyed
Trolley Days
. I come from Southbridge, MA and know a little bit about how the trolley was integral to the town's early history. I found the characters interesting; each one had interesting personalities in an unassuming way. The action in the story made for a real page-turner! I loved all the historical references and how the individuals in the story interacted with each one (the mill system, the new car, the new telephone system, suffrage, etc.). Each of these aspects of American life was woven unobtrusively into the story, adding bulk from the story but never taking away from the plot. It was a well-written and intriguing story that I would recommend to anyone (not just young adults!). Nice job, Mr. McMaster!"
- Maureen Doyle, Google Books

"Well written historical fiction with a compelling storyline. Trolley buffs and WWI era aficionados will enjoy this book. I admire the way the author hooks you with the first chapter, then flashes back the story to gradually bring you up to the flash point. You have to keep reading, wanting to find out what was Jack's (the main character) motivation for his actions. I really found no faults with his writing - characters are well fleshed out, descriptions are artfully constructed. I find that only a few writers can walk that fine tightrope between tedious over-description on one side and confusing plot mayhem on the other, but McMaster does it masterfully (no pun intended.)"
- Jonathan Wyler, Amazon.com

"Great read - the author really knows how to tell a story."
- Raymond Fontaine, Amazon.com

"This novel blends a well-researched historical context with a solid fictional narrative that tells the story of a friendship between two boys who are an unlikely pair because one boy's father is a wealthy mill owner in Holyoke, Massachusetts, and the other is the son of a mill worker. Initially, it might seem that the mill worker's son has little to offer and much to gain from his wealthy friend's high status, but a surprise turn in the plot reverses the relationship, and it's the rich boy who ends up needing his working-class friend's help."